We appreciate your interest in working with Fitch, Even, Tabin & Flannery. We do not have specific openings for professional staff at this time, but always welcome receiving resumes of interested candidates.
Please email your cover letter and resume to Jennifer Pezan, Recruiting Coordinator, at employment@fitcheven.com and indicate the position for which you are applying in the subject line.
Fitch Even prefers direct inquiries from employment candidates.
Fitch, Even, Tabin & Flannery LLP is firmly committed to equal employment opportunity hiring practices. All candidates receive consideration without regard to race, color, sex, religion, national origin, age, gender identity or expression, sexual orientation, marital status, physical and mental disability, genetic information, military or veteran status, or any other characteristic protected by applicable law. All applications will be treated confidentially.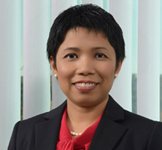 "The true camaraderie among
the people at Fitch Even
creates a supportive and
upbeat atmosphere.
I have benefited greatly
from the free exchange of
knowledge and ideas."
–Jennifer Suarez
Associate Attorney