Firm News
John F. Flannery (1928–2021)
July 13, 2021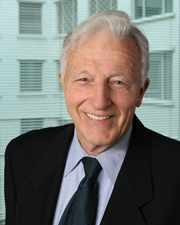 In Memoriam
It is with great sadness that we report the passing on July 10, 2021, of John F. Flannery, a brilliant trial lawyer, respected colleague, and dear friend. John spent his entire legal career with Fitch Even, starting as a law clerk in 1957 while in law school and joining our firm in 1959 as an associate after passing the bar. With his strong background in engineering, keen aptitude for writing, and knack for persuasive argument, he soon worked his way into becoming a gifted trial lawyer. In 1981, John was made a name partner. He led Fitch Even's litigation practice for much of his 50+ years with the firm, working well into his 80s and inspiring us all with his passion for the law and his unfailingly upbeat nature.
John earned a degree in electrical engineering from the University of Illinois in 1950, continuing his studies as a graduate student at Northwestern University. He began his professional career as an engineer and soon set his sights on a management role. To build his credentials for an executive position, John decided to attend law school at Loyola University. Fortunately for Fitch Even and the legal community, he changed course and became an intellectual property lawyer.
John came to be one of the most active first-chair trial attorneys in the intellectual property field, using his formidable skills to secure favorable verdicts in a broad range of IP cases. While he advocated fiercely for the firm's clients, John did so in a manner that invariably drew respect and admiration from his adversaries.
His extensive experience and stellar reputation led John to be elected as a Fellow of the American College of Trial Lawyers, which limits its membership to no more than 1% of the total lawyer population of any state. Fellowship is extended only by invitation to experienced trial lawyers who have mastered the art of advocacy while maintaining the highest standards of ethical conduct, professionalism, civility, and collegiality throughout their careers. John epitomized those qualities and, by example, taught their meaning and value to lawyers everywhere.
John accomplished many notable firsts during his legal career. Only a year out of law school, John was able to obtain the patent on the first videotape recorder on behalf of firm client Ampex, after lawyers from other firms had tried and failed. A significant technological breakthrough, this invention became a resounding success within the broadcast and professional community. John went on to enforce the patent in court and lead a successful worldwide licensing campaign, resulting in substantial royalties to the client.
John was also the first to sufficiently uphold the patentability of a software-based diagnostic system as lead trial counsel in the landmark case Arrhythmia Research Technology v. Corazonix Corp. This groundbreaking decision was instrumental in the explosion of software-based patents and the creation of a new area for IP practitioners.
True to form, John was one of the first patent trial attorneys to try a case to a jury. Until the U.S. Court of Appeals for the Federal Circuit was established in 1982, jury trials had been rare. John's artful ability to explain complex facts and establish rapport proved to work well with juries.
Not only respected by his peers, John was also a favorite of the young attorneys he worked with at Fitch Even. He showed a genuine interest in helping them further their careers, always making time to discuss their work product in detail. Those moments remain etched in the memories of many of our now-established lawyers. John's training continues to guide those who were fortunate enough to have had him as a mentor.
John's greatest passion was his beloved family, ever devoted to his late wife Catherine and their 13 children, 19 grandchildren, and 12 great-grandchildren. Our heartfelt condolences go out to his surviving family. He leaves quite a legacy, and will surely be missed by all who knew him.