IP Alert: Columbia Becomes First South American Country to Join Madrid Protocol
June 11, 2012
Beginning on August 29, 2012, U.S. trademark owners may designate Columbia under the Madrid Protocol of the International Registration system. In acceding to the Madrid Protocol, Columbia has become the first South American country to join the International Registration system.
The Madrid Protocol system consolidates international filing of trademark applications in other countries or intergovernmental organizations (collectively referred to as "member state(s)"). Via the Madrid Protocol, a U.S. trademark owner may designate one or more other member states in a single electronic application. Upon filing, the World Intellectual Property Organization ("WIPO"), which administers the Madrid Protocol, publishes the trademark application and thereafter issues an International Registration. The International Registration system is intended to provide administrative benefits and cost savings associated with maintaining a single International Registration rather than a portfolio of individual trademark registrations. WIPO does not itself grant protectable trademark rights in member states; rather, each designated member state examines the application individually. WIPO records the grant or refusal of protection in a member state as part of the International Registration.
As part of a push to attract South American members, Spanish became an official working language under the Madrid Protocol in 2004. Columbia is the first recruit attributed to this additional working language, and Mexico and other Spanish-speaking countries from the Americas are expected to follow suit.
The International Registration System presently includes 86 member states and intergovernmental organizations, as depicted in the map below: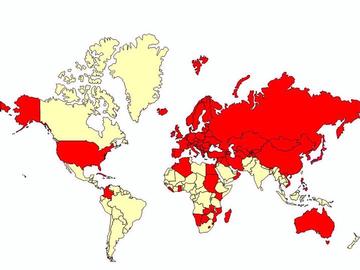 The United States joined the Madrid Protocol in 2003. As of 2011, U.S. trademark owners account for about 11% of the 42,270 current annual Madrid Protocol trademark filings.
For more information about Columbia's accession to the Madrid Protocol or other aspects of international trademark protection, please contact Fitch Even partner John E. Lyhus, the author of this alert.